Brook Super Converter series makes old controllers compatible with new consoles. This particular model, the Xbox 360 to Xbox One Controller Adapter, lets you use Xbox 360 controllers such as gamepads, dance mats, joysticks and racing wheels with Xbox One game consoles and Xbox One on PC. This not only saves you money but also means that you can use the controllers you have grown accustomed to.  Installation and use of the Xbox 360 to Xbox One Controller Adapter is effortless.
This product can also be used as an Xbox One to Xbox One Controller Adapter in that it lets you assign a Turbo function button and customize the button layout of Xbox One controllers.
Wired only, this is not suitable for connecting wireless controllers.
Features
Compatible with gamepads, joysticks and racing wheels
Hot swapping
Auto-register controllers
Optimal button mapping
Vibration support
Lightweight and USB sized
Works with Xbox One and PC
Full compliance with environmental standards
USB interface
Remembers up to 4 controllers
No original controller needed for verification
Button Configuration
The Brook Xbox 360 to Xbox One Controller Adapter automatically recognizes Xbox 360 gamepads and racing wheels and auto-configures their buttons for use with the Xbox One as shown in the map. No toggling is required.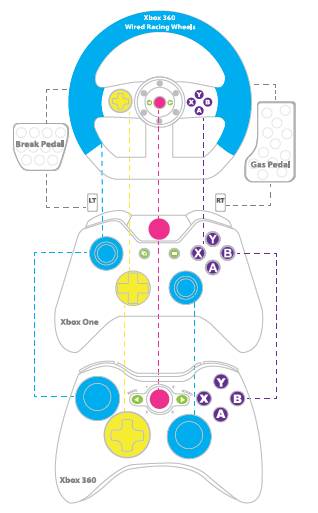 Disclaimer
Each Brook Controller Adapter can handle only one Xbox 360 or Xbox One game controller at a time.
For use with a PC running on Windows 7 please install the original Xbox One driver from Microsoft. Older operating systems are not supported.
Compatibility
The list below indicates the controllers/sticks/wheels that have been tested to be compatible or not compatible with the converter.
For those controllers/sticks/wheels which are not listed indicates that they have not been tested yet.
Go to Contact Us for assistance or suggestion.
Compatible:
ACTIVISIONCanberra
ACTIVISIONDJ HERO
ACTIVISIONGUITAR HERO
AkishopPS360+
HARMONIXRickenbacker 325
HORI STEERING CONTROLLER RACING WHEEL EX2
HORI STEERING CONTROLLER_[XBO-005] HORI Xbox 360 Real Arcade Pro.EX SA
HORI Xbox 360 Real Arcade Pro.VX SA
HORI Hori Fighting Edge for Xbox 360
HORI Blazblue stick
HORI PRO. V _[XBO-004] HORI Real Arcade Pro.3
HORI HORI STREET FIGHTER IV STICK
HORI HORI TEKKEN 6 WIRELESS FIGHTING STICK
HORI HORIPAD for Xbox One [XBO-001] HORI XBOX 360 SOUL CAIBUR 4 FIGHTING STICK
KDITKing Snake Metal Arcade Fight Stick 2013
KDITKing Snake Metal Arcade Fight Stick 2014
KONAMIDance dance revolution
MicrosoftWireless Racing Wheel
PowerAFUSION CONTROLLER FOR XBOX ONE
PowerA Mini Controller for xbox one
THRUSTMASTERFerrari 458 Racing Wheel
RazerAtrox
RazerRazer XB1 Atrox stick
RazerAtrox Super Street Fighter? IV AE Collectors Edition Arcade Stick for Xbox 360?
Mad CatzArcade FightStick Tournament Edition
Mad CatzArcade FightStick PRO for Xbox 360
Mad CatzUltra Street Fighter? IV Arcade FightStick Tournament Edition 2 for Xbox 360
Mad CatzXbox 360 Street Fighter IV FightPad
QANBAQ4
SCUFPROFESSIONAL CONTROLLER FOR XBOX 360
PDPMortal Kombat Xbox 360 Kombat Stick
Joytron Paewang Revolution
MayflashArcade Fightstick F300 for PS4 /PS3 /XBOX One/ XBOX 360/ PC
Not Compatible:
PDPMortal Kombat X Fight Pad for Xbox One and Xbox 360
PDPLegendary Collection Deliverer of Truth Controller
Rock Band 3 MIDI PRO-Adapter for Xbox 360
Thrustmaster:Ferrari Vibration GT Cockpit 458 for Xbox 360
MicrosoftXbox 360 Wireless Gaming Receiver For Windows